The History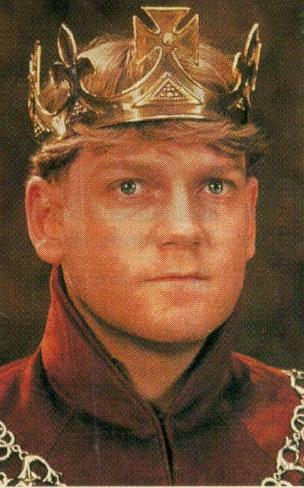 Henry V. 1387-1422
Henry V, the eldest son of Henry IV and Mary Bohun, was born in 1387. As per arrangement by the Treaty of Troyes, he married Catherine, daughter of the French King Charles VI, in June 1420. His only child, the future Henry VI, was born in 1421. Henry was an accomplished soldier: at age fourteen he fought the Welsh forces of Owen ap Glendower; at age sixteen he commanded his father's forces at the battle of Shrewsbury; and shortly after his accession he put down a major Lollard uprising and an assassination plot by nobles still loyal to Richard II . He proposed to marry Catherine in 1415, demanding the old Plantagenet lands of Normandy and Anjou as his dowry. Charles VI refused and Henry declared war, opening yet another chapter in the Hundred Years' War. The French war served two purposes - to gain lands lost in previous battles and to focus attention away from any of his cousins' royal ambitions. Henry, possessed a masterful military mind and defeated the French at the Battle of Agincourt in October 1415, and by 1419 had captured Normandy, Picardy and much of the Capetian stronghold of the Ile-de-France. By the Treaty of Troyes in 1420, Charles VI not only accepted Henry as his son-in-law, but passed over his own son to name Henry as heir to the French crown. Had Henry lived a mere two months longer, he would have been king of both England and France. Henry had prematurely aged due to living the hard life of a soldier. He became seriously ill and died after returning from yet another French campaign; Catherine had bore his only son while he was away and Henry died having never seen the child. The historian Rafael Holinshed, in Chronicles of England , summed up Henry's reign as such: "This Henry was a king, of life without spot, a prince whom all men loved, and of none disdained, a captain against whom fortune never frowned, nor mischance once spurned, whose people him so severe a justicer both loved and obeyed (and so humane withal) that he left no offence unpunished, nor friendship unrewarded; a terror to rebels, and suppressor of sedition, his virtues notable, his qualities most praiseworthy."
The Film And The Play
Let us then heed the signs and portents, that proceed these events. Let us watch as these events unfold before our eyes. He who was an historical king, and he who became the centre of the play, and thus the play became moving images upon a screen. Heed then The Actor, who also took the words of
The Playwrite, and fashioned them thus, that we, the audience should at last understand, and no longer they, the words be confined in ivory academia, the privilige of a few....But look, the play doth begin!
PROLOGUE:
Enter Chorus
Chorus.
"O for a Muse of fire, that would ascend
The brightest heaven of invention,
A kingdom for a stage, princes to act
And monarchs to behold the swelling scene!
Then should the warlike Harry, like himself,
Assume the port of Mars; and at his heels,
Leash'd in like hounds, should famine, sword and fire
Crouch for employment. But pardon, and gentles all,
The flat unraised spirits that have dared
On this unworthy scaffold to bring forth
So great an object: can this cockpit hold
The vasty fields of France? or may we cram
Within this wooden O the very casques
That did affright the air at Agincourt?
O, pardon! since a crooked figure may
Attest in little place a million;
And let us, ciphers to this great accompt,
On your imaginary forces work.
Suppose within the girdle of these walls
Are now confined two mighty monarchies,
Whose high upreared and abutting fronts
The perilous narrow ocean parts asunder:
Piece out our imperfections with your thoughts;
Into a thousand parts divide on man,
And make imaginary puissance;
Think when we talk of horses, that you see them
Printing their proud hoofs i' the receiving earth;
For 'tis your thoughts that now must deck our kings,
Carry them here and there; jumping o'er times,
Turning the accomplishment of many years
Into an hour-glass: for the which supply,
Admit me Chorus to this history;
Who prologue-like your humble patience pray,
Gently to hear, kindly to judge, our play."

Exit