A Tale Of The War Between The States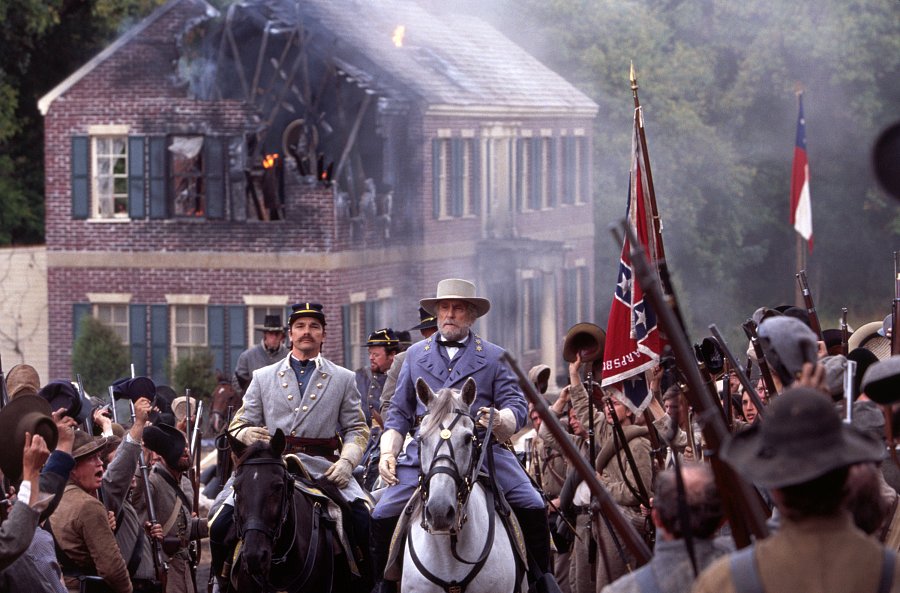 Robert Duvall as General Robert E. Lee
Gods and Generals depicts Robert E. Lee and Stonewall Jackson on the Confederate side, Joshua Chamberlain and Winfield Scott Hancock on the Union, from the beginning of the war up from Manassas I to the Battle of Fredericksburg, and then to Gettysburg, in 1863.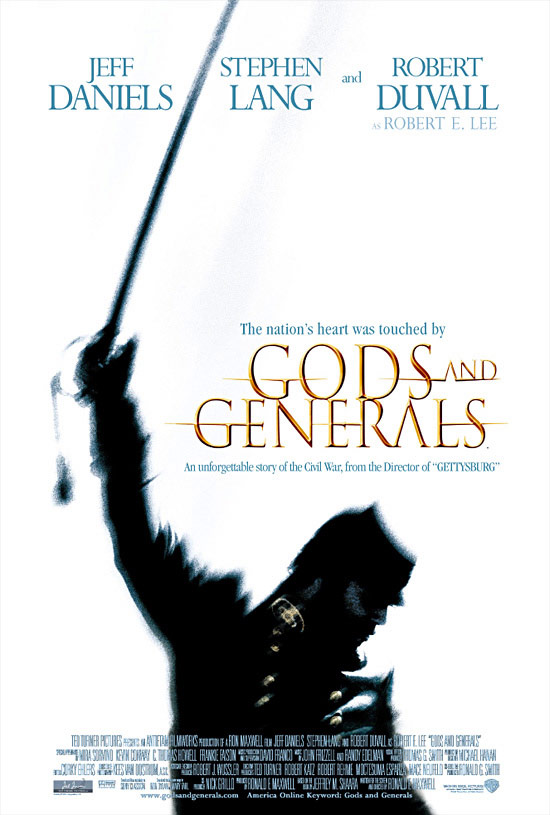 An Episode of The Civil War
The Great Locomotive Chase
Early on the morning of April 12, 1862 in Big Shanty, 21 Federal soldiers dressed as Confederates and under the leadership of civilian spy James J. Andrews, stole the engine General and three boxcars and headed north with a plan to destroy the Western and Atlantic Railroad, so important to supplying Confederate armies. The crew and passengers were eating breakfast at a nearby hotel. Hearing the engine pull out of the station, conductor William A. Fuller and two others gave chase on foot for two miles. They found a railroad crew, and commandeered their platform car, which is propelled by pushing long poles or pushing off on railroad ties with one's feet. At the Etowah River, they picked up the steam-powered yard engine Yonah, belonging to Cooper's Iron Works. Meanwhile, the raiders had been delayed an hour in Kingston, where southbound train traffic had to be switched to the side to let them pass.Four minutes after they rolled north, the Yonah came puffing into Kingston. Delayed in Kingston, Fuller abandoned the Yonah and pursued on foot and quickly was able to commandeer the William R. Smith. Farther north, Andrew's raiders were vandalizing track, and gathering wood to help burn bridges to the north, which would stop their pursuer. At Adairsville, the General had to wait to let the southbound Texas get by, then they steamed north. Behind them, Fuller had to abandon the Smith when he came to some destroyed track. Proceeding on foot three miles, Fuller and his men came upon the southbound Texas. When told of the situation, the engineer threw the Texas in reverse to pursue the General at more than 60 miles an hour. When the Texas closed on the General near Resaca, Andrews' men released a boxcar to slow him up, but the Texas just pushed the car along in front of it. Other attempts to slow the Texas were unsuccessful, and the General was running out of fuel as it roared through Tunnel Hill and Ringgold.
If the desperate raiders could get beyond Chattanooga, a few miles away, they would be safe behind Northern lines, but it was not to be, as the engine came to a stop. Andrews told his men to "Jump off and scatter! Every man for himself!" Soon they were all captured and imprisoned in Chattanooga. Eight escaped, six were exchanged, and eight including Andrews were hanged and buried in Atlanta. The Medal of Honor the nation's highest award for valor was established in U.S. Congress and given to the Raiders, except for Andrews himself, who was a civilian. Later the dead were reinterred in Chattanooga National Cemetery, their ultimate goal, and honored with a monument and commemorated by three movies, most recently being the popular Walt Disney film, The Great Locomotive Chase
Going Home
(Mary Fahl)
They say there's a place , where dreams have all gone
They never said where, but I think I know
Its miles through the night just over the dawn
On the road that will take me home

I know in my bones, I've been here before
The ground feels the same, though the land's been torn
I've a long way to go, the stars tell me so
On this road that will take me home.

Love waits for me round the bend
Leads me endlessly on
Surely sorrows shall find their end
and all our troubles will be gone
And I know what I've lost, and all that I won
when the road finally takes me home

And when I pass by , don't lead me astray
Don't try and stop me , don't stand in my way
I'm bound for the hills where cool waters flow
on this road that will take me home

Love waits for me round the bend
Leads me endlessly on
Surely sorrows shall find their end
and all our troubles will be gone
And we'll know what we've lost and all that we've won
when the road finally takes me home.

I'm going home
I'm going home
I'm going home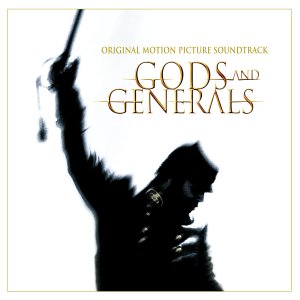 the music you hear:
Going Home
sung by
Mary Fahl
from the soundtrack of
Gods and Generals
(lyrics at the bottom of the page)





Slave narratives from the
Federal Writers Project
1936-1938
The Matthew Brady Project at
The Library of Congress
American Civil War Flags
A film by Ken Burns
Two Communities In
The American Civil War
Locomotive Links
the premier website about
The Raid and The Chase
the locomotive Andrews and
his raiders stole