A Story of the London Fog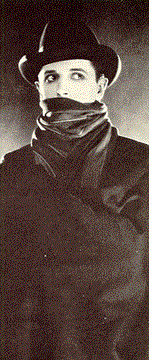 The Michael Balcon/Alfred Hitchcock production of The Lodger (1926) is a silent adaptation of the novel of the same name, by Marie Belloc Lowndes, which was published in 1912. The original novel was inspired by the Jack the Ripper murders which had taken place in London, in 1888. This is the roundabout route we have taken, to include The Lodger in History on Film .
The actual murders, the novel and, of course the film, are all featured here, plus links to relevant and reliable sites, not surprisingly, there are a number of websites, both good and bad, on The Lodger. There, of course a large number of websites on Alfred Hitchcock, and one or two on Michael Balcon, who, it should be noted, went on to found one of the great, if not the greatest, British film studios, Ealing Films(They are back in existence as an independent studio and we'll provide a link to their website).
Let us, then get to The Lodger. First of all some background material, ie, the Jack the Ripper murders, then we'll get to the book and
Marie Belloc Lowndes, then finally the film, links to Ivor Novello, who plays The Lodger, can be found
here
It's cold, damp, and very foggy out there, but isn't tthat just the sort of night that.........well, best not to look too closely, with the inward looking eye, and dwell on such matters..........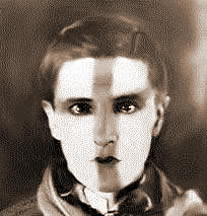 The Ripper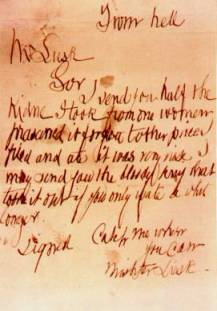 (Transcription)
From hell.
Mr Lusk,
Sor
I send you half the Kidne I took from one woman and prasarved it for you tother piece I fried and ate it was very nise. I may send you the bloody knif that took it out if you only wate a whil longer
signed
Catch me when you can Mishter Lusk